Refurbished Sony CDP-CE375 Compact 5 Disc Player Changer Carousel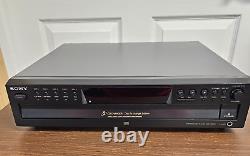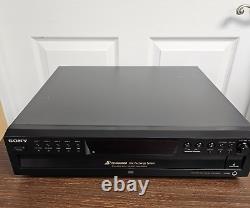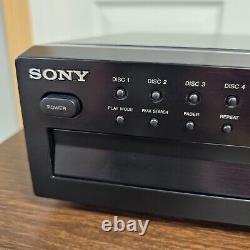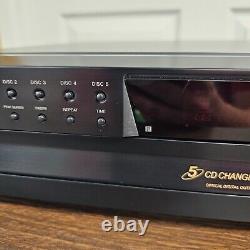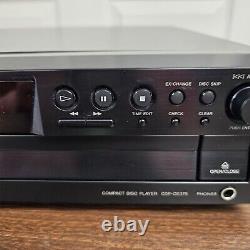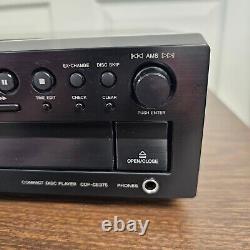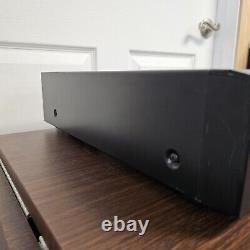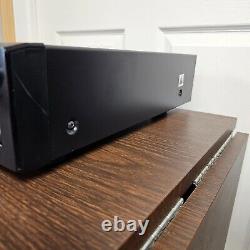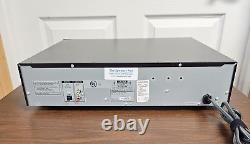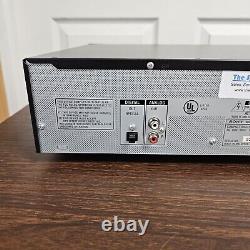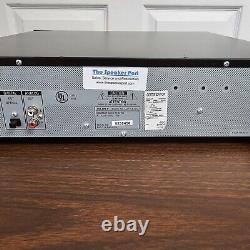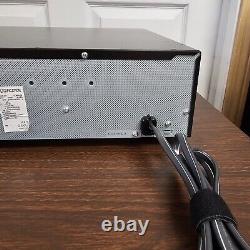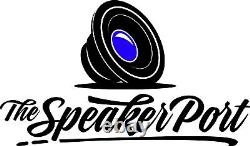 Welcome to The Speaker Port! Refurbished Sony CDP-CE375 Compact 5 Disc Player Changer Carousel. Works great and is ready for a new home!
Please note the surface scratches on the top of the unit. Disc format: CD (5 disc multi play).
Frequency response: 2Hz to 20kHz. Total harmonic distortion: 0.0045%. Dimensions: 430 x 110 x 400mm. The Speaker Port refurbished units are fully functional and have been cleaned and serviced to the highest of standards. Lenses have been cleaned, belts replaced as needed, mechanics cleaned and lubed, chassis cleaned inside and out, and any RCA connections have been cleaned with DeoxIT.
It covers any natural failure of an internal item due to normal and proper use. Founded in 2016, The Speaker Port is a small, independently owned/operated business based in the suburbs of Chicago, IL. I started out in repairing/restoring vintage audio speakers and stereo systems but within the first year, took on both home and professional grade systems (PA systems, guitar amps, etc).
I work on all components types receivers, turntables, tape decks, power amps, etc. I hold a degree in Electrical Engineering but spent the better part of my 22 year professional career in Information Technology. Through it all was a deep love for music and music reproduction. Recently, I have established relationships with a number of music stores and studios servicing their own as well as 3. I now also offer my own line based on reproducing hard to find, vintage parts using 3D CAD design and printing technology.
As we continue to growth, I look forward to being able to provide top shelf Customer services and well as products to go with it. In order to sell products, you need to price competitively and fairly. Please consider this when evaluating the price we set. They take into consideration the materials necessary to secure/protect your item in transit.
We use new boxes and packing when possible. Please keep this in mind when evaluating the cost of our product to others.
We have no way of knowing how much use it had before coming into our possession. Any used/refurbished/restored item we sell is tested and verified to be in working condition before we list/sell the item. Any issues or problems will be clearly stated in the listing. This includes physical, electrical or operational condition. Regarding physical condition, we provide detailed pictures in our listing so please pay attention to them.
We will not be describing every scratch/scuff/ding that may exist. Note: any statements made about things like sound or picture quality or value are completely the opinion of The Speaker Port and in no way represent a guarantee or statement of fact. Party products that are still sealed in their original OEM packaging are assumed to be in perfect working condition. We will not open these packages to test them or evaluate their contents for any reason. The Speaker Port assumes no responsibility for the operational condition of such items and are offered "as-is".
Unfortunately, there are folks out there that try to commit fraud/steal products from us. The Speaker Port has also had to resort to photo documenting and UV tagging (marking) products in various ways to prevent'bait and switch' situations or from buyers who'harvest' internal parts for their own use and claiming that the item does not work.
We have zero tolerance for this. Unless otherwise specified above, the following terms and conditions apply. If you have a question about one of our items that is not answered above or below, please reach out to us.
Unless otherwise stated in the listing, all sales are final. We do business in an honorable and respectable manner. It serves us no purpose to cheat or mislead any Customer. We are committed to your satisfaction.

---