Pioneer PD-F908 File Type Compact Disc Player-101 CD Roulette Changer (Works!)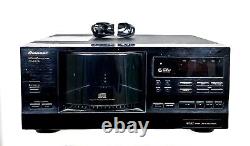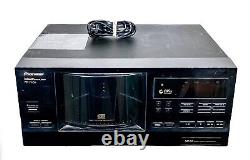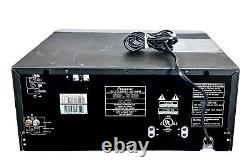 Pioneer PD-F908 File Type Compact Disc Player-101 CD Roulette Changer. Pioneer's extended line of CD changers includes the PD-F908 with a roulette rack that can accommodate up to 101 discs. This unit employs Pioneer's compact center-loading system for extraordinarily efficient use of space, plus a single-loader mechanism that quickly accesses any disc. The PD-F908 includes versatile edit features such as previous-disc scan. This feature gives you quick access to the CDs you have listened to most recently. It samples 10 seconds of discs you have listened to, starting with the most recent, and continues on in reverse chronological order. CD-deck synchro simplifies CD-to-tape recording. Simply connect a Pioneer CD player and a Pioneer tape deck that both feature CD-deck synchro. The CD player and the cassette deck will automatically operate in sync: the deck automatically stops when the CD player searches for the next programmed track to play, and restarts when it's found. CD-deck synchro makes taping your favorite CDs easier than ever. The best-selection memory function makes it easy for you to label and listen to your favorite tracks in your CD collection. Simply press the "best selection" key when listening to the tracks you like to store them for later recall. When searching discs or tracks, you may sometimes find the first few seconds of a song aren't enough to clearly identify it. That's why the Pioneer PD-F908 features a highlight scan. This function plays back sections 60 to 70 seconds into each track it scans.
It also lets you scan in several ways: you can check each track on each disc, or the first track on each disc, or just the tracks and discs selected for best-selection memory, or tracks and discs defined by categories under the custom mode function. The Pioneer PD-F908 also features an optical digital output for transmission of a pure digital bit stream to compatible receivers, and comes with a full-function remote control.
Condition - Pre-Owned (Very Good) - Item is in excellent pre-owned condition with minimal cosmetic damage (as seen in photos). Please consider photos part of description. Item has been tested and fully functions as intended.

---